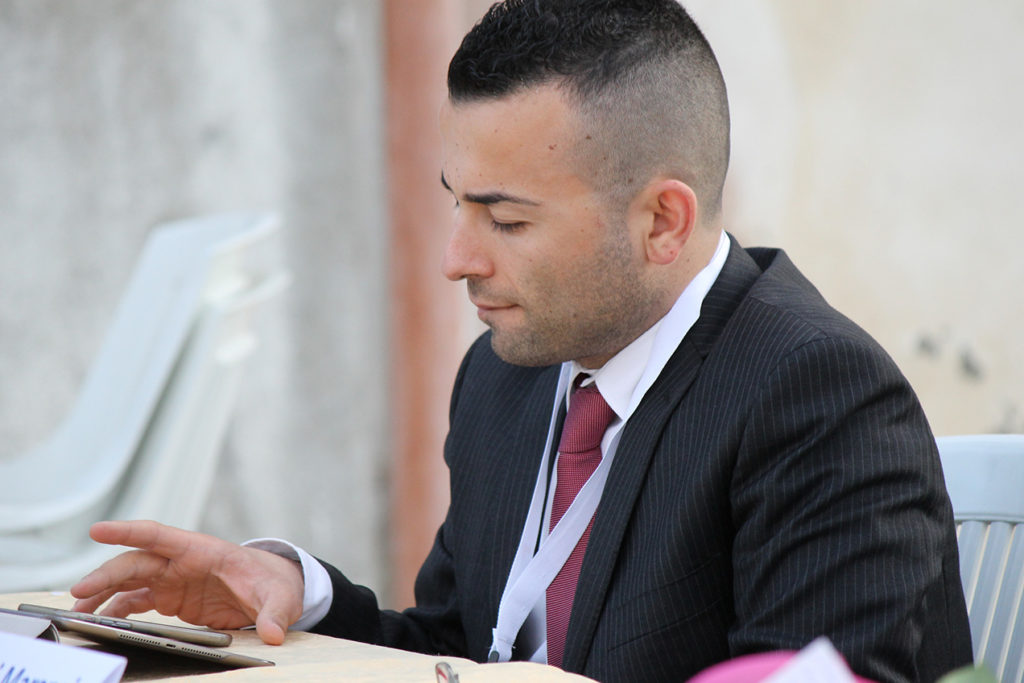 Personal Details
Birthday:

1983 May 25

Marital:

 Married

Nationality:

Italian
ABOUT ME
Domenico Depalo was born on May 25th, 1983. He gratuated in Informatics in the University of Salerno.
Since he was a child, he has developed his passion for informatics and new tecnologies writing his first program in Basic language, when he was only ten, on his fist computer: a Commodere 64.
During the following years, he has developed his passion for web using his free time to realise web sites and e-commerce solutions. He follows with attention the world of CMS, particularly the Joomla and WordPress evolution participating in several conferences and seminars every year.
He is fascinated about Marketing and business management so much to deepen all the aspects by reading numerous texts dealing with the sector.
Among the many passions, stand out the passion for photography, video editing and for the world of aviation.
Currently it is an Account Manger at BvNetworks and he works, as a Networks specialist, at Wifly s.r.l.
LAST EXPERIENCE
From

Gen 2013
To

Present
(6 YEARS)
BV Networks s.r.l.

Mercato San Severino
Account Manager & Networks Specialist
He is in charge of:
Services management on dedicated server solutions, using the best known existing virtualization technologies.
Management and assistance on backbone wireless for the spread of connectivity. Development and management of Voip switchboards for small, medium and large enterprises with advanced management of incoming and outgoing telephone traffic.
Configuration and management of the Ubiquiti, Microtik and Cambium main devices for network traffic management. Planning, realization and Site Survey of hotspot networks for different types of enterprise customers (Municipalities, Hotels, Enterprises, Hospitals), with centralized management of the single apparatuses and management of different modalities of authentication using, in the case of Social Networks, the different APIs available.
Creation and management of different websites using different CMS according to need.
From

Sep 2019
To

Present
(4 MONTHS)
WiFly s.r.l.

Salerno
Account & Communication Manager
Management of corporate communication, promotion and diffusion in the markets of the identity of the enterprise directing communication within three different areas: Media Area, Public-Institutional Area and User-Consumer Area. Realization of a sales network of its services through the conclusion of partnerships with activities with years of experience in the IT sector. Realization of a new company website with integrated e-commerce system, promotion through targeted SEO campaigns. Development of strategies and business plans aimed at expanding the business costomers' portfolio and the consequent management of relationships with them.
From

Jun 2018
To

Aug 2018
(2 MONTHS)
Liceo Scientifico Statale ``T. L. Caro``

SARNO
Professor
As company tutor, in charge of the educational path module"3- Computer science" pertaining to the specific objective 10.2 Improvement of the students' key competences (Project Code 10.2.5A-FSEPON-CA2017-15), my main activity has been to strengthen the key competences of the module and to complete the main objective of the project: to enable trainees to acquire skills and competences for the creation of a website.
EDUCATION
Università degli Studi di Salerno
Degree in Computer Science
2015
Istituto Tecnico Commerciale G. Filangieri
GT LAB
Web Marketing per Startup
2015
Università degli Studi di Salerno
Centro Congresso Roma
Red Hat Open Source Day
2019
Languages
English:

Advanced

Spanish:

Basic

French:

Basic
PORTFOLIO
EBU Calabria – Ente Bilaterale Unitario del Commercio, Turismo e Servizi
domdep1983
Realizzazione e Gestione Sito Web, SEO, IT Consultant.
(Realizzato con BV Networks s.r.l.
Metoda S.p.a.
domdep1983
Progettazione e realizzazione di reti Wireless per impianti di video sorveglianza e hotspot per diversi siti:
Comune di Caivano (NA);
Comune di Crispano (NA);
Comune di Qualiano (NA);
Scavi Archeologici di Ercolano;
Ospedale A. Cardarelli;
Comune di Giovinazzo (BA);
(Realizzati con BV Networks s.r.l.)
Cliente:

Metoda S.p.a.

luogo:

Napoli
Mostra d'Oltremare
domdep1983
Progettazione e realizzazione ampliamento rete Hotspot sull'intera superficie della struttura. (Realizzato con BV Networks s.r.l.)
RECOMMENDATIONS FROM LINKEDIN
Conosco da qualche anno Domenico De Palo, il quale – con la sua Azienda- ha curato il nuovo sistema internet Wi-Fi per l'Hotel che dirigo. Ho avuto modo, in questo periodo, di conoscerlo bene sia dal punto di vista professionale che umano: affianca la sua disponibilità sempre immediata, la capacità di individuare soluzioni ad ogni problema; soluzioni quasi confezionate su misura per la gestione Aziendale. Le sue qualità professionali ed umane lo rendono una persona con cui intrattenere anche solo una piacevole conversazione.
A Domenico piace il suo lavoro che esplica con estrema serietà e competenza. Il suo senso del dovere e la correttezze che lo ha sempre contraddistinto, fa di lui una "mosca bianca" che, di questi tempi, è difficile da trovare. Inoltre, con le sue doti e la sua empatia riesce a creare da subito un gruppo coeso e funzionale. Grazie Domenico
Conosco Domenico da un pò di anni. Il nostro primo incontro è stato di tipo professionale poichè web master che ha creato il sito dell'azienda di ITC con cui in quel periodo collaboravo. Da lì ne èscaturito un rapporto umano ed una stima professionale. ReputoDomenico un professionista serio e competente.
Tecnico preciso e con una elevata preparazione specifica.